Highlights:
Asbestos was used in thousands of consumer products, including various building materials. 
Asbestos fibres get trapped in the body if they are inhaled or ingested. This can cause inflammation, scarring and even cancer. 
Use of asbestos was banned in 1999. Houses built after 2000 shouldn't have any asbestos.
Landlords need to take asbestos management seriously.
If your property was built before 2000 then you should have it surveyed for asbestos. 
You should know what asbestos is present in your property, where it is, what type it is and what condition it is in.
It's a good idea to get a qualified surveyor to carry out an asbestos management survey. 
You may wish to get asbestos professionally removed if it is in poor condition.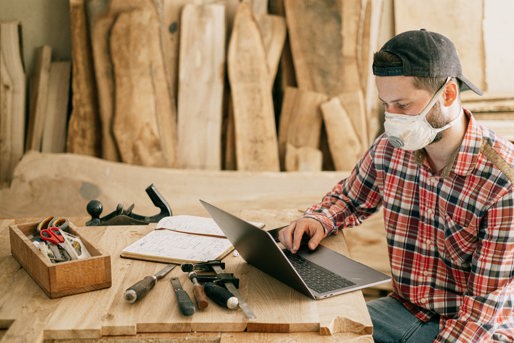 Asbestos is a serious health threat in the UK. Not only can it cause fatal illnesses, but it is also present in almost all properties built during the 20th century.
According to the Health and Safety Executive (HSE), asbestos causes 5,000 deaths per year—and this number is increasing every year.
Landlords have both a legal and moral duty to be aware of asbestos in their properties and have plans in place to manage it.
In some cases, they should also take steps to remove it altogether. 
This article explains everything landlords need to know about asbestos and how to deal with it. 


What Is Asbestos?
Asbestos is a naturally occurring mineral that is made up of fibres. It is flexible and resistant to heat, electricity and corrosion. 
Because of this it was used in thousands of products, including various building materials. 
But it was later discovered that asbestos is carcinogenic if its fibres get breathed in. 
This is made possible when the fibres become airborne. For example, this could happen if something made from asbestos is damaged and a tradesperson comes to repair it. 
Asbestos fibres get trapped in the body if they are inhaled or ingested. This can cause inflammation, scarring and even cancer. 
The health impacts of asbestos are so severe that there are two illnesses that aren't caused by anything else:
Mesothelioma: An aggressive cancer that develops in the lungs, abdomen, heart or testes. Once diagnosed, life expectancy is usually 12 months
Asbestosis: A lung disease that leaves victims short of breath, with a dry cough and chest pains. It is incurable and indicates the victim has an elevated risk of cancer, but the symptoms can be managed. 
According to the study mentioned earlier in this article, in 2020 mesothelioma was responsible for around 2,500 deaths and asbestosis was involved in 530 deaths. The rest were caused by other asbestos-related illnesses. 
Once someone is exposed to asbestos, it can take at least 15 years for any illness to appear.
In 1999 asbestos was banned from being used in new buildings. But despite this, it is still present in many existing ones. 
It's vital for landlords to take asbestos management seriously.
What Asbestos Regulations Are Relevant to Landlords?
There are several laws that govern a landlord's duty to manage asbestos. 
They are:
Control of Asbestos Regulations 2012
This law applies to commercial premises and the common areas of shared domestic buildings like HMOs. It does not apply to individual private domestic rentals. 
It states that whoever is responsible for a tenancy, contract or repairs and maintenance on a property should take steps to minimise their tenant's asbestos exposure.  
It says that they should:
Identify whether asbestos is present
Determine what the risk from the asbestos is
Write a plan that highlights which asbestos risks are present and how they will be managed
Landlord and Tenant Act 1985
This states that landlords must maintain the structure and exterior of the property. The tenant can take legal action against the landlord if the structure contains asbestos and it becomes a hazard because it is not maintained. 
Housing Act 2004
The Housing Act 2004 requires landlords to use the housing health and safety rating system (HHSRS) to evaluate threats in their properties. Asbestos is considered a hazard under the system. 
Landlords should assess their property for potential hazards. If asbestos is discovered, the level of risk it poses should be assessed. They should then take appropriate action.
If they don't then the local authority can use powers to force them to deal with the asbestos risk.
Homes (Fitness for Human Habitation) Act 2018
This act requires landlords to keep homes fit for human habitation. Asbestos is mentioned as one of the things that could make a property uninhabitable. 
The Environmental Protection Act 1990
Under this law, tenants can report asbestos to their local authority. If an environmental health inspector agrees that there is asbestos and it is harmful to human health then they can issue an order forcing the landlord to deal with it. Failure to comply can lead to criminal prosecution. The local authority will then carry out the work and charge it back to the landlord. Tenants can also use this law via a magistrate's court and by complaining to the HSE.
Defective Premises Act 1972
If you built a property yourself then you need to ensure it has no major defects under the Defective Premises Act 1972. Asbestos is listed as a major defect. If the tenant is affected by asbestos they can sue the landlord. The court can order the landlord to deal with the problem. Tenants who bought their property from a landlord can also take action. 
Asbestos-Containing Materials
Here are some common examples of where you might find asbestos in a residential property:
Water tanks
Pipe lagging
Loose-fill insulation 
Textured coating (like Artex)
Ceiling tiles
Floor tiles
Around boilers and other heating products
Partition walls 
Window panels
Toilet seats and cisterns
Gutters and soffits
Roofs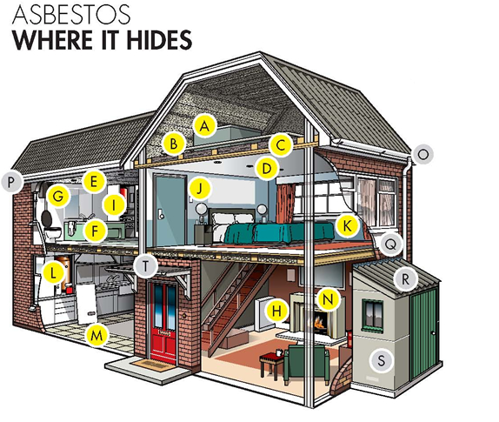 (Image and list courtesy of HSE)



A: Asbestos cement water tank

B: Pipe lagging

C: Loose fit insulation

D: Textured decorative coating (Artex)

E: Asbestos Insulating Board (AIB) ceiling tiles

F: AIB bath panel

G: Toilet seat and cistern

H: AIB behind fuse box

I: AIB airing cupboard or sprayed insulation on boiler and hot water tank

J: AIB partition wall

K: AIB interior window panel

L: AIB around boiler, storage heaters and warm air heating systems

M: Vinyl floor tiles

N: AIB behind fire

O: Asbestos cement gutters and downpipes

P: Asbestos cement or AIB soffits

Q: AIB exterior window panel

R: Asbestos cement roof

S: Asbestos cement panels

T: Asbestos in roofing felt.
Some asbestos-containing materials are more dangerous than others. 
Generally, materials with a higher percentage of asbestos are more dangerous. They are more easily damaged, which causes asbestos to enter the air. 
Loose-fill insulation, for example, is very hazardous. It is 85% asbestos and takes the form of fluffy grey-blue clumps that are easily disturbed and breathed in.
Asbestos cement, on the other hand, is widely used as a roofing material. It only contains up to 15% asbestos and is only dangerous if it is damaged.
Who Is at Risk from Asbestos?
Anyone who is around or working with asbestos-containing materials is at risk. For the residential lettings sector, this includes:
Tradespeople: These people are most at risk. They are most likely to disturb an asbestos product and breathe in the fibres when performing repair and maintenance work. For example, if an electrician needs to enter an attic to repair a light fitting and there is loose-fill insulation there. 


Residents: Residents can also be at risk. If there is a damaged asbestos product in their home, it may release fibres into the air that they might breathe in.


Landlords: How exposed a landlord is to asbestos depends on how hands-on they are with their property management. If they perform all repairs and maintenance themselves, then they could be at risk.


Not all asbestos materials present an immediate threat. People are only at risk if asbestos is present and the fibres are released into the air. 
If something is made from asbestos but not damaged or at risk of being damaged then it could be safe.
However, it can be difficult to tell for certain if this is the case. This is where an asbestos management survey comes in.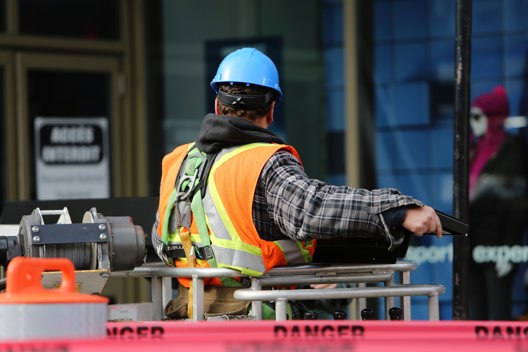 Do You Need an Asbestos Management Survey?
Asbestos was used in building materials for around 100 years. If your property was built before 2000, then it is likely to contain asbestos. 
This means you'll have a legal duty to find out where it is and put plans and measures in place to manage it. 
Therefore, it's a good idea to get a qualified surveyor to carry out an asbestos management survey. There are two types of assessment:
Asbestos management survey: This is generally used when asbestos has already been identified. The surveyor will inspect the asbestos and provide advice on its condition, how to monitor it and what, if any, action should be taken.
 
Refurbishment and demolition survey: If you plan to carry out any construction work on a pre-2000 property, you should get one of these surveys. The aim is to find where asbestos is present in your property. The surveyor will have to take samples and access closed-off spaces (like inside cavity walls) to inspect the building. This can cause damage to the building.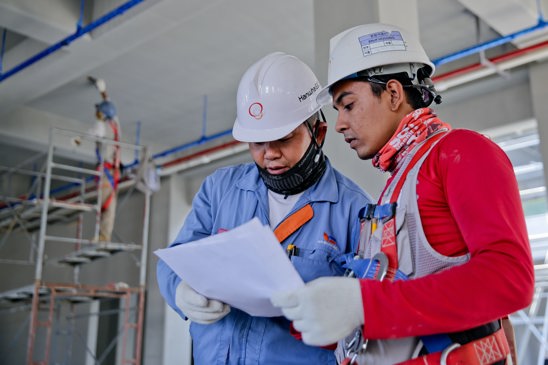 Checklist for Keeping Your Property Asbestos-Safe
You should always use an expert when dealing with asbestos. Never attempt to assess or deal with it yourself. 
However, there are some initial steps you can take to ensure you fully understand your property's asbestos risk.
Find out if you have asbestos


✔️ Was your building built before 2000? If so, then assume it has asbestos.
✔️ Examine any documents that may indicate the presence of asbestos – for example, tradespeople reports. 
✔️ Perform a visual check for any potential asbestos both inside and outside of the property.
✔️ Record your findings.


Assess the condition of asbestos


✔️ Try to estimate how much asbestos you have and what condition it is in. Look out for the following warning signs:
Damaged, frayed or scratched surfaces
Seals peeling or breaking off
Asbestos becoming detached from a base
Missing or damaged protective coverings
Asbestos dust from damage


Get a survey
✔️ Next it's time to find a suitably qualified person to carry out an asbestos survey. The type they perform depends on whether you are planning construction work on the property. 


Keep a record and make a plan


✔️ Record details of what asbestos the survey found, including:
Where it is 
What condition it is in
What type of asbestos it is
✔️ Write down your plan for managing the asbestos.


✔️ Make sure the record and plan is accessible to you, your tenants, tradespeople and anyone else who may need it. 


Implement your plan
✔️ Give your asbestos record and plan to any new tenant who moves in or tradesperson who works at the property. 


✔️ Clearly label anything that contains asbestos so people who come across it know what it is.


✔️ If your property has asbestos then the assessor may decide that it could release fibres in the normal course of someone living there or a tradesperson working there. If this is the case, you will need to hire a specialist to remove it.


Monitor and review
✔️ Reinspect any asbestos once per year.


✔️ Review your asbestos action plan annually and make appropriate changes to it.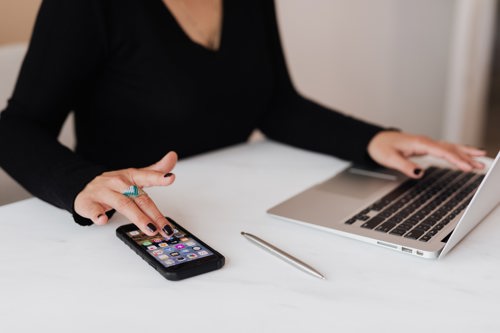 Use a Digital Platform to Share Your Asbestos Plan
As you can see from our checklist, it is critical to record which asbestos-containing materials are present at your properties and make that information accessible to tradespeople and tenants. 
This is where EVO helps. We provide a digital platform that connects tenants, landlords and tradespeople. 
Landlords can upload their asbestos management plan via their dashboard and make it available to tenants via our Living App and to tradespeople via the Trades App. 
This allows all parties to access it whenever they need it. They can also report any changes to the asbestos plan, for example, if a tradesman finds suspected asbestos-containing materials that are not noted in the plan. 
This helps protect your residents and tradespeople – as well as your reputation